We're giving a traditional summer time treat an indulgent twist with this easy-to-make #smores skillet dip made with our delicious Niagara Peanut Butter Cups. See the recipe and directions below.
INGREDIENTS:
1 bag of marshmallows (12 oz)

1 bag Niagara Chocolates Peanut Butter Cups

12 graham crackers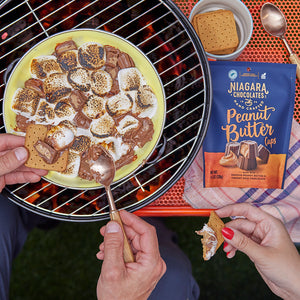 Directions
STEP 1:

Mix marshmallows and Niagara Chocolates Peanut Butter Cups in a grill-appropriate container (1.5-quart capacity). TIP: stainless steel pans work great!

STEP 2:

Place on a hot grill with the lid.

STEP 3:

Cook for 3-5 minutes or until everything melts and browns on top.

STEP 4:

Dip your graham crackers and enjoy!
Shop This Recipe